In Sin City, basketball is not usually known as their major pasttimes. That can be because there is no NBA teams, or because it can be so hot during the daytime. Hoopers in Las Vegas beg to differ, though, as we have been pointed to the best places to play basketball in Las Vegas. We have assembled courts in all shapes and sizes to give the weekend traveler or high-rolling player options. Some are lit up all night for nighttime balling, some are the perfect place for a sunrise shootaround, and others will cost you 10,000 dollars and will get you a court and a place to stay! Without further ado, here are the top ten best courts in Las Vegas, Nevada.
One of the largest parks in Las Vegas, it is also fitting that it has eight excellent basketball courts on which you can hold a game with friends or just shoot some baskets. Repaved in 2018, the courts here give off the ultimate streetball vibe. Something about the blacktop and a well lit court at night makes the inner hooper in me tingle. Feel like a pick-up game? There are bound to be some folks who are willing to join in. Done playing or just want to take a break? They have water features all over the park that are perfect for cooling you down after a long game.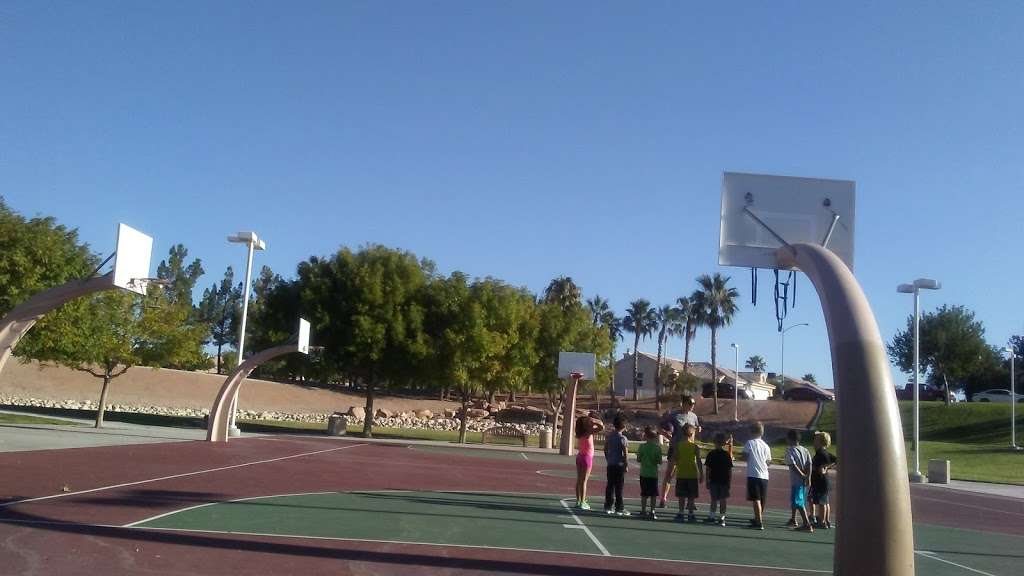 Sunny Springs Park, found right near Elkhorn Springs in Las Vegas is a wonderful place to get a few games in. If the name doesn't give enough hints, this park is perfect for playing basketball a warm and sunny day, just don't forget your sunscreen! The park has everything : barbecue pits, a water feature for kids, and even a skate park nearby. The basketball court is centered away from the main road, so you wont be too distracted by the sounds of cars humming or people playing in the grass. As far as friendly neighborhood parks go, this surely is one of the best in Las Vegas.
Surrounded by the Macdonalds Highlands in Las Vegas, the view at Hidden Falls Park makes this court one of the best in town. Overlooking a vast area of plains and mesas, this court is ideal for friends getting together to chill and play ball together, or going for an early morning hoop session to catch the sunrise. Since it can get pretty toasty in Nevada, the court is a clay colored brown to prevent too much reflection of sunlight, and also so that it doesn't get too hot on the court. Although Covid has prevented hoopers from being able to hoop effectively on this court, sooner rather than later this court will be back to its prime.
You don't have to be a Rebel to play at these courts, but it might help! Located near the recreation center at UNLV, these courts are perfect for students and hoopers alike to get some fresh air while playing pickup basketball. Hidden away from the parking lot, it is a secret gem that is a great spot to get away from those guys at the gym that call fouls on every possession or never pass. If you are ever visiting UNLV or in the area and don't have a student ID to play inside, this is the perfect spot for you.
Located near Summerlin South in Las Vegas, Gardens Park sits right at the eastern edge of the Red Rock Canyon. With 6 hoops on a single full court, for ballers it is the best of both worlds. Although most of the time a full court game will keep everyone happy, if it ever gets crowded it is a lot more inclusive to be able to run two full court games. The hoops are regulation sized and the court is bordered by a shaded grass area, perfect for bystanders to enjoy a show. Whether you are just visiting Vegas or looking for a new home court, it is hard to deny how nice this court is.
Another park with all of the amenities that you could ask for is found at the Arroyo Grande Sports Complex. This lighted full basketball court is ideal for a great evening game during the hot, dry summer or a mild winter's day. With 6 hoops on a court, plus another additional court, there is always space to play, and being lit up all night? Now that is almost unfair.
The main court is equipped with single rims and the side courts have doubles, which make practicing here a great idea to improve your shooting game. If you ever find yourself on the outskirts of Las Vegas and feel like a pick up game, look no further.
Spring Mountain Ranch Community Park
A beautiful place to experience the sunrise and an even better court to play basketball, Spring Mountain Ranch has a scenery that many Las Vegas courts do not provide. Located just southwest of Gass Peak, the court has a great view of some special rocky cliff faces, but it is usually sunny and hot, so make sure to bring sun screen! The park has a full court, and regular NBA sized rims, so it is not surprising to see pick up run here. If you are around North Las Vegas and are fiending for a hoop session, this might just be the place for you.
The outdoor basketball courts are also lighted at this facility, making this the ideal place to practice some hoops, join a pick-up game or just play for the fun of it with some friends or family members. The courts are open until midnight, which is perfect during those hot Vegas nights. There are indoor courts nearby as well, situated inside the Henderson Multigenerational Center, a staggering 84,000 foot modernized rec center with all of the amenities. After a night of enjoying the strip or losing your money at the MGM Grand, there is no better place to release your emotion then on the basketball court.
Located at the Hilton Grand Vacations Hotel right on the Strip, this court not only has a great facility, but a great atmosphere surrounded by the life of Las Vegas. To attend this court you must be a guest at the hotel, so it assures that the courts will remain pristine and relatively quiet, perfect for getting shots up in the city. The court itself is a sport court, meaning that the flooring is made from interlocking tiles of rubber. This makes it easier to run and jump as the rubber is bouncier, and also provides better protection from weather related wear and tear.
The Tarkanian Basketball Academy was founded in 2003 by Las Vegas legends Jerry and Danny Tarkanian, the former a Naismith Hall of Famer for his coaching career, bringing the UNLV Running Rebels to Victory in the NCAA championship. The facility is new and clean, and features multiple full sized courts that are used by some of the best youth leagues in the country. You can even rent out these courts for only fifty dollars an hour, so if you've got a group of ten that are interested, 10 dollars each could get you 2 hours of uninterrupted ball on a pristine hardwood court.
The Hardwood Suite at The Palms Las Vegas
This bonus hoop just had to be included. At The Palms Hotel, there is a suite that will cost a pretty penny in order to book. $10,000 dollars every night to be exact. Except if I was staying here, I would not be doing much sleeping, as the room is over 10,000 square feet and has a game room with a pool table, a full locker room, and a private half court basketball court. For any hooper with friends that are willing to splurge, this room can fit up to ten guests, and would probably make for one of the most memorable nights of basketball possible. Unless you spend too much time in the suites private whiskey room that is.
We hope you double down and enjoy some of these Las Vegas basketball courts! Let us know what you think!